May 25 & 26, 2018
35th Annual Flopeye Fish Festival
​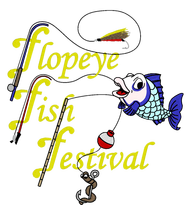 The Flopeye Fish Festival brings about a community wide recreational highlight.
​With a variety of food, fun and entertainment accompanied by the enthusiasm of a homecoming atmosphere, the festival attracts visitors from many states.
The event brings our citizens together and preserves the saying, After all, life is to enjoy.
---
Flopeye Fish Festival Directions
​

2534 James Baker Blvd

, Great Falls, SC 29055